This Vancouver-based luxury skincare brand will save your skin and the environment
The unpredictable weather in Vancouver is no joke. With a constant flux of rain, sun, snow, hail, and everything in-between, the changing forecast can do a number on our skin, coupled with the effects of pollution and poor air quality that comes with city living. 
To protect your skin against the wear and tear wrought by the elements, GLACYO's collection of natural mineral skincare products for all skin types offers a welcomed pick-me-up that can help weather the storms and prevent free radicals from infiltrating your epidermis layers and environmental stressors from damaging your skin. 
The Vancouver-founded and Canadian-formulated skincare line is based on two superhero ingredients — amber extract from Poland and glacier marine mineral water from Canada's Pacific Northwest coast. 
Containing 70 trace minerals and rare earth elements, and infused with ancient skincare principles and timeless ingredients, the miracle mix of GLACYO creams pack a modern twist.
With a dynamite blend of organic baltic amber swirled with deep ethically sourced sea clay mud, GLACYO's nutrient-rich Amber Extract Eye Cream and multi-correction Anti-Aging Serum offer anti-aging and anti-inflammatory benefits and have the power to nourish, protect, and improve your skin condition.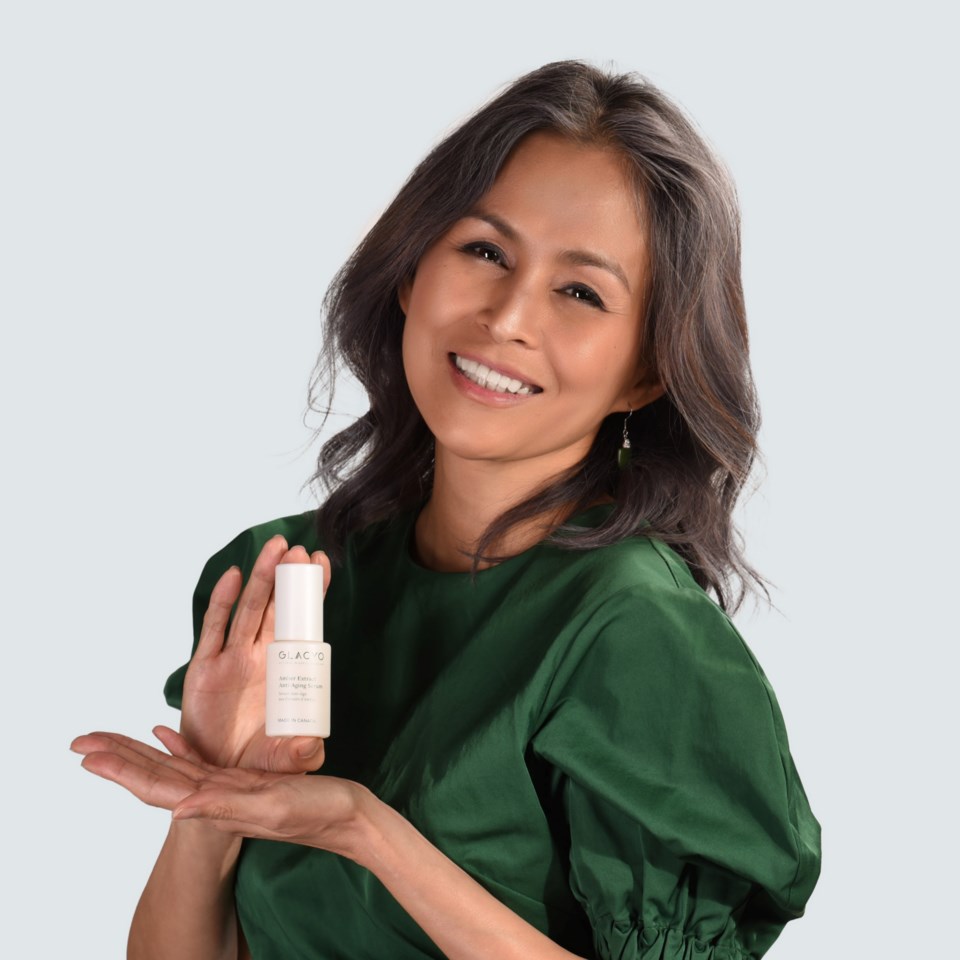 GLACYO was founded by Angelic Luong in 2020, but the product has been on a journey for years beforehand. Luong spent years innovating skincare serums after a tragic moped accident in Vietnam where she found herself looking for healthy, natural skincare to help de-escalate the rapid dehydration and healing resistance she found herself in. 
Years later, she realized that her findings could benefit others. Luong spent nearly a decade perfecting the formulas and testing different variations with colleague Nhat Nguyen, a researcher at Oxford University. Soon enough, the ultimate skincare product was finalized. Working with top Immigration firm CICS Immigration Consulting Inc., in association with Boscoriva Consulting, Luong put together her expansion business plan for GLACYO and released the Canadian line.  
The launch has been a journey in itself, as any business owner will attest to expanding during a pandemic is not for the faint of heart. That said, Luong is no stranger to creating ethical products under pressure. Her actions are underpinned by her long-term vision and intention of ultimately adding positivity to people's lives, as she's spent a significant portion of her life volunteering with children in Vietnam over in Ly Son Island, Phu Hoa, Soc Trang, and other rural areas of the country. 
Luong hopes to use her understanding of nature, mindfulness, and the healing value of skincare to better the planet. Committed to clean beauty, GLACYO places high emphasis on fostering sustainability practices in their sourcing, testing, manufacturing, and packaging. In a conscious effort to save the planet. 1% of their total revenue is donated to organizations like 1% for the Planet and other environmental and reforestation efforts worldwide. 
As a staunch environmentalist, Luong is a supporter of TreviBike's bamboo bikes, amongst other innovative startups in the green sphere. GLACYO is yet another example of Luong's vision to create solid and lasting relations in business with a positive environmental footprint, and to put people and the environment over profits. 
For Luong, GLACYO is more than just an organic anti-aging product, but a representation of mindfulness values in a bottle. 
From March 20 to 30, GLACYO will be holding an online sample sale, which will include an unmissable deal on their best-selling Ultimate Anti-Aging Duo. Visit glacyo.com for more information.